Last night i've been rushing all the way from my office until to airport lcct..at the moment i press my thumb to the finger-tech attendance at 5.30pm and i take out my shoes from the rack and my mind start thinking to be in langkawi right..until when i closed my eyes for a while..i can smell the breeze...i miss you langkawi...


i dont have transport for now so me and nurul are walking and one of the trainee there give us a ride back home...and me and nurul run to the third floor...and open the doors..i mean like we lock the door, the grill and we put also the lock pad...it takes few minutes to open all...so nurul change clothes and me pack my stuff and walla we are ready to go!! actually im the one in the rush here not nurul but i ask her to accompany me until im in the cab..hehe
Thank to the cab driver drive fast and this is how things happen...i arrive at KTM Seremban with my mind all ready organize the time because i gonna missed my plane even for 1 minutes late..oh gosh!! my mind start to worry and supposely i took the train at 6.45pm to BTS but suddenly the train been cancel...i mean like what the hell..im rushing here its not like im taking a cruise walk to airport..every minute count!!and while i've been cursing the comuter and waited for 1 hour more because the next train at 7.30pm..and i start to call my dad, aunty and all the people that cross to my mind to know if my flight does delayed or not...an than ellie called me and we tall all the way when i in the train and i change plan..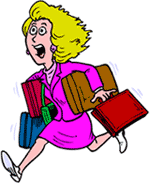 Instead of going to BTS im stoping at UKM and my aunty and my cousin will pick me up and send me to the airport..the highway start to jam with the traffic but not that heavy yet...my aunty already give me few options either im staying with her or hoping for flight delay or going back tomorrow with ayah mat but he only go to sungai petani..how the hell im going from sungai petani to langkawi....it is the worst day ever!! i been thinking that my dad already spent few hundreds to buy the tickets including the return tickets...what a waste if i didnt make it to take that last flight...and when i arrive at the airport...im running like hell with the luggage...and thank god that the flight delay half an hour...and here i am in Langkawi now...